It has sometimes been said that a partner can never say nor do the right things for a woman in labour….it must be deflating for them to hear that, huh?
Not empowering.
Not inspiring.
Can we aim for better? For Mum, baby and birth partner? We think so. MUCH better, in fact.
We know that the role of the birth partner is crucial to the birth experience – but it's somewhat less clear how birth partners can go about learning how to effectively fulfil that role, isn't it?
When we think of our partners as being of little to no use to us in birth, we cut them and ourselves off from the opportunity of experiencing the birth of our babies as the intimate, powerful and shared experience that it can be, and that is such a shame.
There is sometimes an expectation that partners should just naturally know how to be a great Birth Partner, but there's not a lot of education on how to learn how this is best achieved – we want our partners to "step up" and to "hold the space" for us, so let's ensure there is a clear pathway available to them for them to learn how to do just that.
It has been shown that when a woman feels a sense of privacy, safety and support, in the great majority times (when there are no special circumstances playing out), her labour will progress normally and uneventfully.
Labour is a time of a huge hormone influx, bringing with it feelings of true vulnerability, and at some points that vulnerability evolves into what is known as a "crisis of confidence".
This is when support people really need to know their stuff, and to the uneducated partner, this can be very daunting and is often even quite frightening. There is never a more important time for a woman to feel 100% supported.
Caesarean birth's also brings just as much necessity for solid emotional support – many women fear the operating theatre, the needles and having major surgery. She can be filled with stress hormones such as adrenaline and cortisol that increase her need for medication and expose both her and the baby to the chemicals of "fight, flight or freeze".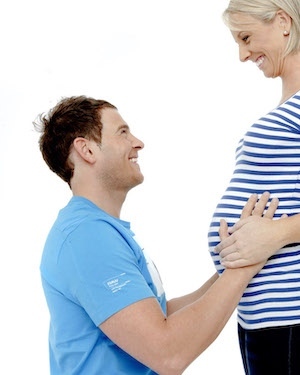 Being a Birth Partner
Being a Birth partner is a big job. It makes sense that skills, tools and knowledge are imparted before the day baby is born, and that a practical tool kit has been stocked to draw upon so parents can move confidently and skilfully together with their unique shared experience.
Most birth partners want to feel integral to this unforgettable day and that they are not pushed into the corner as simply an onlooker. That they feel that they are a valuable member of the family unit and that they know what to do for the mother of their child when she is in labour. It sets them off into parenthood much more positively and more confidently, compared if they felt "hopeless" in birth suite.
Midwives have shared with me that many a time they have seen a birthing mother really going inwardly, down into the zone of labour and getting on with the job beautifully, but her partner looked…lost.
Sometimes birth partners are so scared and panicked, that the birthing mother's focus becomes distracted from the task of working with her body and her baby, and she shifts her mindset from herself and her body, to worrying about her partner, which is not where it needs to be. Fear can be contagious, and a previously calm mother may become anxious if she realises that her partner is stressed or scared.
Some birth partners reveal they fear labour more so than the pregnant woman themselves – an anxiety that will not help either parent on the day their baby is going to be born!

The Benefit of Classes
You know, over the ten years I have been blessed to teach new parents in our face to face classes, it is invariably the partners who approach me after our program with the most emotion, gratitude and thanks; they all come in wanting to know how they can be there in a helpful and empowered way, and to be prepared for the important role of being a support person. For the woman they love, for their baby, and themselves and they are all so, so happy when they understand what this looks like.
When couples participate in a good program to help them practically prepare for what is a very important day, you both feel confident in each other, and yourselves, and you are giving yourselves the chance to head off into the early days of parenthood in the most positive way.
Mum wins. Partner wins, and so does baby. Brilliant! And there's not much to not like about that!

---
Perhaps you are looking for a practical way to help you and your partner feel prepared for your birth?
Birth Sense Australia offers a comprehensive online childbirth education that teaches parents knowledge, tools and practical coping skills. We currently offering our program on a "contribute what you can" basis so no one misses out on their education due to class closures with COVID19. Birth Sense Australia has worked with 1000's of parents and believes "you'll both feel better when you're prepared".
Our program has been a decade long labour of love, created by Registered Nurse and Certified Childbirth Educator Rebecca McQueen, as well as a collaboration of other experienced medical professionals and adult learning experts.