For so many women, the rush of joy that follows a positive pregnancy test is soon overshadowed by near constant queasiness. Bleh. Not ideal! It is important to know that it is entirely okay to feel excited by your pregnancy and resent the first trimester all at once.
It can be a really tough time particularly if you don't yet feel comfortable to share your news and are navigating each day trying not to look like you want to crawl into bed hugging a bucket.
There is so much that is unknown about morning sickness, but what we do know is that around 80% of all women will experience nausea with or without vomiting in the first trimester of pregnancy. We also know that the term 'morning sickness' is terribly misleading as many women find that this feeling hangs around all day.
The severity of morning sickness symptoms vary between women, but symptoms usually peak at nine weeks and resolve by 16 weeks gestation.
A few different theories exist as to why nausea and vomiting is so common but in truth, it is a poorly understood mechanism, making it really hard to treat. One of the most common theories is that ongoing nausea and vomiting protects the body from ingesting food that may be dangerous for you and your baby during those first precious weeks.
---
What can I do to feel better?
There is no single intervention that has been proven to be consistently effective and women usually find it's a combination of a few things that help them through.
PREVENTION
According to The Royal Australian College of General Practitioners, the best morning sickness treatment starts with prevention. There is evidence to support that taking prenatal vitamins for three months before conception may reduce the severity of nausea and vomiting in pregnancy. If you are reading this and considering starting a family, it's worth considering a trip to the pharmacy pronto.
ACUPRESSURE
For some women, applying pressure to the 'P6' point on the wrist provides some relief to feeling nauseous. 'P6' is located three finger breadths below the wrist on the inner forearm in between the two tendons.
STAY HYDRATED
Sipping small amounts of water every 15 minutes is encouraged. Some women find drinks containing sugar more tolerable. Try flavoured mineral water, cordial or electrolyte drinks if you are struggling. Sucking ice & icy-poles can also be helpful. It is worth keeping a glass of water next to the bed and taking small sips before getting up. Sometimes starting the day with a completely empty stomach worsens symptoms.
GINGER
Ginger has long been utilised as a natural remedy for nausea and vomiting of all descriptions. There is some evidence to support that ginger consumption in pregnancy eases symptoms. Try:
A warm drink made from grated ginger root in a cup of hot water
Non-Alcoholic ginger beer
Crystallised ginger
Ginger flavoured biscuits
Ginger cordial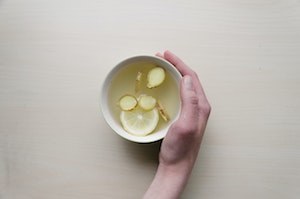 AVOID SENSORY OVERLOAD
It is not uncommon for early pregnancy to heighten your sense of taste and smell. Try to avoid meal preparation at the time of day when you feel most sensitive. For example, if you feel better in the evening, prepare and pack lunches for the following day the night before. Better yet, make someone else do it for you. Fresh air is your friend. Try to get out into the breeze as much as you can. Now is not the time to tolerate your colleagues tuna sandwich as you have politely done so for many years…
Other things that may help includes:
Eating small frequent meals
Eating dry salty crackers before getting out of bed
Avoiding spicy, rich foods that may irritate your stomach
Highly acidic drinks such as fruit juice may also worsen symptoms
Remain upright after meals
MEDICATION
Despite how common it is morning sickness can be incredibly debilitating and isolating, particularly if you haven't shared your pregnancy news with friends, family and colleagues yet. If morning sickness is impacting your physical or mental health, talk to your care-provider about medications that are safe to take in pregnancy.
---

It is important to know that a small percentage of women (approximately 1%) will experience a severe form of morning sickness called Hyperemesis Gravidarum, which is characterized by constant nausea & vomiting, dehydration, electrolyte imbalances and weight loss that can sometimes last the duration of the pregnancy. For these women, admission to hospital for intravenous fluids and specialist review may be recommended by their care provider. If at any time you are unable to keep down fluids, feel dizzy, or experience stomach cramps, contact your midwife or doctor.


To all the Mums ploughing through the day feeling like they've had a big night but with none of the fun, hang it there. Things will improve soon and that lovely second trimester glow awaits. x
---
Reference:

Tan, A., Foran, A., Henry, A. (2016). Managing nausea and vomiting in pregnancy in a primary care setting. Australian Family Physician 45(4) p564-568. Retrieved from https://www.racgp.org.au/afp/2016/august/managing-nausea-and-vomiting-in-pregnancy-in-a-primary-care-setting/