WHAT IS A PLACENTA?
The placenta is an incredible and complex organ that develops from the fertilised ovum (egg). It attaches to the wall of your uterus and connects to the baby through the umbilical cord. The placenta provides oxygen and nutrients to your baby, while also taking away waste products from your baby's blood (such as carbon dioxide). The growth of your baby depends on the quality and effectiveness of your placenta, so it has a huge role to play in pregnancy. The placenta is fully formed and functioning 10 weeks after fertilisation and is approximately 20cm in diameter, 2.5cm thick and weighs one sixth of your baby's weight (at term).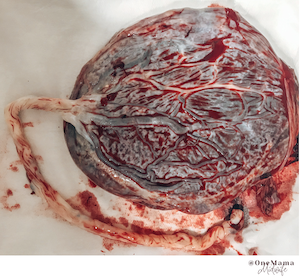 PLACENTAL LOCATION
The position of the placenta can be determined by an ultrasound (usually at the 12 week and the 20 week scans). Most commonly the placenta is located at the top of the uterus (also called the fundus). Other locations include:
anterior (front wall)
posterior (back wall)
side walls (left or right lateral)
Placenta prevue (covering the cervix)
The blood flow through the uterus is not uniform, so that the bloody supply differs when the placenta is implanted in different areas of the uterus. When the placenta is implanted in the more normal places (anterior, posterior, fundal or lateral) there are rarely any complications due to bloody supply, however if the placenta is located at the bottom on your uterus (placenta previa) there can be more complications to consider for both the mum and baby.
FUNDAL PLACENTA
This is the most common position when the placenta implants into the top of the uterus. Some studies have determined an increased association between the placenta being located in the fundal position and premature rupture of membranes (breaking your waters before 37 weeks). When the placenta is located at the top of the uterus it creates the weakest point of the membrane over the cervix thus leading to premature rupture of membranes. A fundal placenta has also been linked to having a shorter third stage (delivery of the placenta).
---
ANTERIOR PLACENTA
An anterior placenta occurs when the placenta implants into the front of your uterus. Having an anterior placenta usually does not negatively impact the pregnancy or birth, however it may:
Make it harder to feel your baby as the baby is cushioned by your placenta at the front of your stomach. This means that usually you feel your baby move later in the pregnancy.
The baby is more likely to be "back to back" (posterior) meaning baby's spine is against your spine. This can increase the chances of having a longer and/or more painful labour, an assisted delivery or a caesarean section. However most of the time your baby will rotate to an optimum (anterior) position during labour and delivery.
There is an association between an anterior placenta and increased back pain which has been attributed to the baby being in the back to back position.
It is harder to perform certain tests such as an amniocentesis (only if required).
Some studies have shown an increase in rates of induction, prolonged rupture of membranes (membranes ruptured for longer than 18hrs without contractions beginning), more likely to have a caesarean section due to failure to progress and higher incidence of postpartum haemorrhage (blood loss greater than 500ml at birth) and manual removal of the placenta.
Some studies have shown a slight increase between anterior placenta and pregnancy induced hypertension (PIH), gestational diabetes, placental abruption, intrauterine growth restriction, fetal death in utero (FDIU).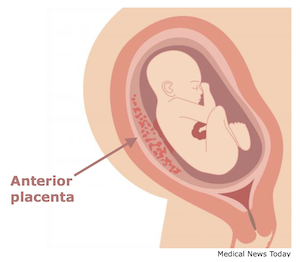 ---

POSTERIOR PLACENTA
A posterior placenta means that your placenta has implanted onto the back of your uterus. This means that you have the advantage of feeling your baby's movements earlier and stronger as well as allowing the baby to get into the most optimum position for birth (spine at the top of your belly - anterior). The blood flow at the back of the uterus can sometimes be less efficient due to that wall being longer and thicker, which may increase the chance of a preterm labour.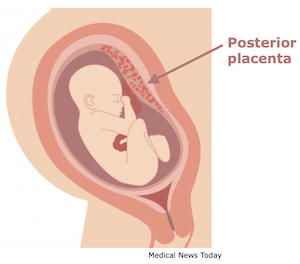 LATERAL PLACENTAL POSITIONS
Lateral placenta positions are when your placenta implants on the left or right side of your uterus. When this occurs, your baby will get a uniform blood flow from usually one of the uterine and/or ovarian arteries and a small contribution of blood flow from the other uterine artery. This can mean your chance of having pre-eclampsia is increased, however outcomes during labour and delivery are usually not impacted. Lateral placental positions have been identified in some studies as placing women at an increased risk of having a breech baby.
Lateral placental positions are the least common positions.
---
PLACENTA PREVIA
Placenta previa occurs when the placenta implants over the cervix, it occurs in approximately 1 in 200 pregnancies. It is usually diagnosed on routine ultrasound or if maternal vaginal bleeding is present. Possible causes of placenta previa are: multiparity (twins/triplets), maternal age greater than 35yrs, previous placenta previa, previous caesarean delivery and smoking during pregnancy. When the placenta is completely covering the cervix it is too dangerous to deliver the baby vaginally and a caesarean section is required. If you have placenta previa an extra ultrasound scan is usually required at 32 weeks gestation to determine the severity of your placenta previa and how it will be managed in the third trimester. The main risks associated with the placenta covering the cervix is major bleeding, which can happen suddenly.
If you have placenta previa you may be required to be on bed rest at home or in the hospital from about 34 weeks even if you haven't had any bleeding during your pregnancy. If any bleeding occurs you need to contact your hospital straight away, if it is a large bleed your baby may have to be delivered early (prematurely).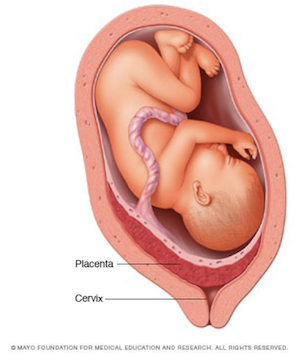 ---

PLACENTAL LOCATION AND CAR ACCIDENTS
Placental abruptions due to motor vehicle accidents are the leading cause of accidental fatalities during pregnancy (50-70% of all fetal deaths in utero). A placental abruption is when the placenta partially or completely comes away from the uterus wall, decreasing the supply of oxygen and nutrients to the baby. It is important to understand how the location of the placenta impacts on fetal wellbeing during motor vehicle accidents and what you can do to reduce fatalities. A study by Acar and Meric (2016) demonstrates that women with the placenta located at the anterior position has the greatest risk of placental abruption, followed by the fundal position and women with posterior placental positions has the lowest risk of placental abruption. This study also found that impacts at speeds of 15km/hr or less significantly reduced the risk of placental abruption. Three point seat belts should always be worn in the correct position, below your bump and not over your bump and airbags should be fitted to any car you are in.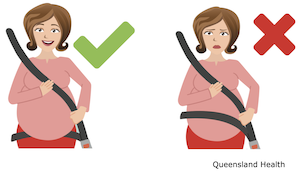 ---

WHEN TO CALL YOUR HOSPITAL
Problems with the placenta can occur suddenly and are often severe. A doctor should be called immediately if a pregnant woman notices:
- Vaginal bleeding
- Fast or constant contractions
- Severe back or abdominal pain, a hard tummy that doesn't relax
- Decreased fetal movement
---
REFERENCES:
Acar, B., & Meric, M. (2016). The effect of placenta location on the safety of pregnant driver and her fetus. International Journal Of Crashworthiness, 22(2), 163-168. doi: 10.1080/13588265.2016.1243609
Kaku, R., Shivaraju, P., R., V., & Lingegowda, K. (2017). Lateral location of placenta on ultrasound as a predictive test for preeclampsia. International Journal Of Reproduction, Contraception, Obstetrics And Gynecology, 6(3), 930. doi: 10.18203/2320-1770.ijrcog20170558
Norwitz, E., Saade, G., Miller, H., & Davidson, C. (2017). Obstetric Clinical Algorithms (2nd ed., pp. 133-135). Oxford, UK: John Wiley & Sons, Ltd.
Torricelli, M., Vannuccini, S., Moncini, I., Cannoni, A., Voltolini, C., & Conti, N. et al. (2015). Anterior placental location influences onset and progress of labor and postpartum outcome. Placenta, 36(4), 463-466. doi: 10.1016/ j.placenta.2014.12.018
Zia, S. (2013). Placental location and pregnancy outcome. Journal Of The Turkish German Gynecological Association, 14(4), 190-193. doi: 10.5152/jtgga.2013.92609