Congratulations, you have found out you are pregnant, and the first scan in your pregnancy should be an exciting time.
Walking into the ultrasound room, you will be full of mixed emotions. From excitement, to worry, hoping everything is ok. I can assure you, the Sonographer is feeling exactly the same way. Each time I walk a patient into my scanning room, my fingers and toes are crossed quietly praying all will be well for my lovely patient. As soon as I see a heartbeat I silently start breathing with relief and let them know that a heartbeat is seen.
The first scan in your pregnancy is commonly known as the dating scan, and is usually done in the first trimester at around 7 weeks.
It is the most accurate time to
Measure the size of your embryo
Determine your estimated due date (EDD)
Determine viability, confirm a heartbeat
Check the pregnancy is in the uterus
Determine the number of babies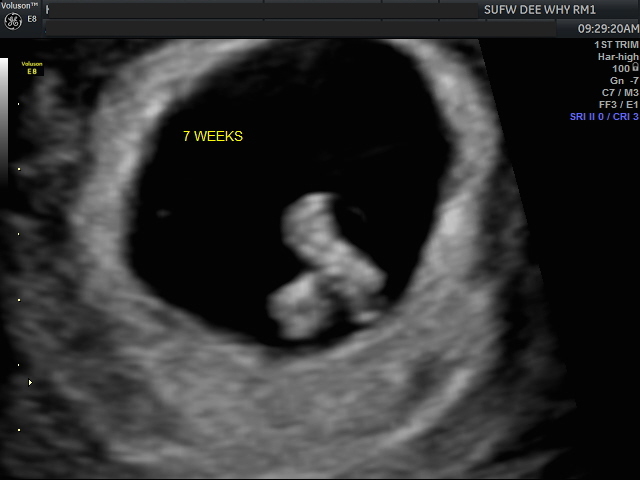 A Sonographer will perform the ultrasound. So being prepared for the ultrasound will require you to have a full bladder…. not a bursting bladder!

A good tip is to empty your bladder and have 2 glasses of water, approximately 500-600mls an hour before your appointment.
Both a transabdominal and transvaginal ultrasound will be performed, and both are safe throughout your pregnancy.
A transabdominal ultrasound is scanning over your abdomen, and in the early weeks of your pregnancy, under 10 weeks; the most accurate way to perform the scan is transvaginally. This is done with a small transducer placed into the vagina with an empty bladder.
The Sonographer will ask you a few questions to get a relevant history from you.
When was your last menstrual period (LMP)?
Do you have regular cycles?
Is this is a naturally conceived pregnancy? Or IVF?
How many pregnancies have you had? What were the outcomes?
If you had miscarriages, how far along were you?
How many children do you have?
Any past operations?
Are you taking any medications?
Please don't hesitate to let the Sonographer know if there is any other information relevant to your pregnancy. This information helps such as if you were breastfeeding at time of conception, recently stopped using the oral contraceptive pill, and if there has been any bleeding or spotting. These reasons are important when confirming the gestational age of your embryo.
So what will you see?
The Sonographer will do a quick survey scan to confirm the gestational sac with the embryo is in the uterus, and will confirm a heartbeat is seen.
The number of gestational sacs is counted, as well as the number of embryos in each sac. A single pregnancy has one gestational sac with a single embryo inside. A multiple pregnancy including twins, triplets etc, may include a single gestational sac with two embryos within, or two gestational sacs with an embryo in each. The combination is important to determine if you are carrying identical or non-identical twins, or if there is a triplet pregnancy.
The pelvic region including the uterus and ovaries are scanned, ensuring there is no other pathology that could affect your pregnancy and its outcome.
The embryo will be measured from crown to rump (CRL). This measurement determines the gestational age of your embryo, which then determines your estimated due date (EDD)
5 weeks 1-4mm
6 weeks 5-9mm
7 weeks 10mm
8 weeks 16mm
9 weeks 22mm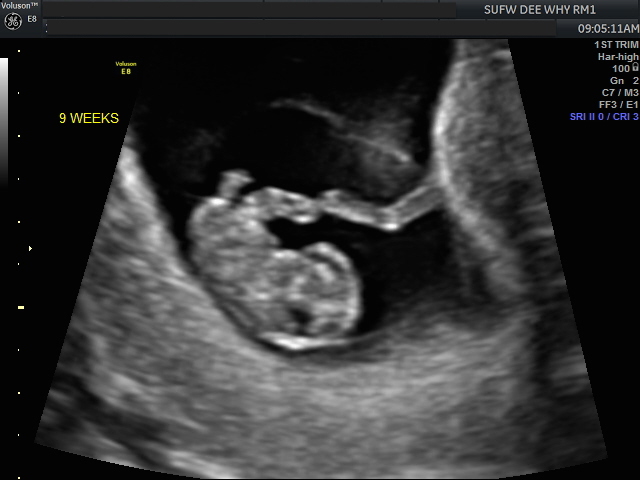 A strong fetal heartbeat can be clearly seen at 7 weeks. The range can be from 100 to 180 beats per minute (bpm) . Any earlier than 7 weeks, you may not see the embryo or fetal heart beating due to the embryo being so small. A gestational sac and yolk sac may only be visible. Do not panic, the Sonographer will try and give you as much information as she or he can. You may need to come back in 7 to 10 days time for a follow up scan. A week can make a significant difference in what you can see on ultraosound. Your referring Doctor will advise you.

Sonographers are caring and professional, and happy to answer any of your questions. Don't be afraid to ask about what you are looking at, it's normal to be curious at what you are seeing on the screen. The scan is not long and you will leave after approximately 20 minutes. The Sonographer will give you an image and be able to tell you your due date. The results will be sent to the doctor or hospital that referred you.
It is an exciting time, and Sonographers love being able to give you good news & showing you your baby on ultrasound. You and your baby's well-being is important.
___________________________________________________________________________________________