There are lots of benefits to exercising in pregnancy, but how much is too much or too little? The Royal College of Obstetricians and Gynaecologists recommend that in the absence of contra-indications, pregnant women should be exercising for 150-300 minutes a week during pregnancy. This equates to about half an hour of low-moderate intensity exercise daily, which is the same advice given to all Australians to keep healthy. Gone are the days of pregnancy being a time for "confinement" - it's a time to get moving!

The benefits include:
Decreased risk of gestational diabetes
Improved circulation, energy levels
Better posture, muscular tone and strength/ endurance
Improved sleep patterns and reduced stress/ anxiety
Reduced back pain
Helps to maintain a healthy weight range
Preparing for labour and delivery, and optimising postnatal recovery.
Of course, you should always check with your Doctor or midwife before starting an exercise program, but in most cases it's completely safe.
Contraindications include (but are not limited to):
Shortness of breath
Bleeding
Placenta praevia
Leaking of amniotic fluid
High blood pressure
History of premature labour
Recurrent miscarriage
If you are pregnant with twins chat with your Doctor first.
If you have ANY concerns please check with your Doctor.
Low to moderate intensity exercise is best, at a level where you could carry on a conversation without being too "puffed". It's also really important to avoid overheating, so make sure if it's hot you exercise early in the day, or in a cooler environment and drink plenty of water.
Walking, cycling, swimming, pilates, aqua classes and lifting light/moderate weights are all great options for maintaining or building fitness when you are pregnant. Ideally, if you are attending a class, find an instructor that specialises in pregnancy and post natal recovery, so they can modify anything if needed. It's also fun to workout with other women who are going through the same changes as you!
Back pain in pregnancy is common, with up to 80% of women reporting symptoms. Pelvic floor complaints are common too, with a third of women reporting bladder issues after having a baby.
Exercise like pilates targets the muscles which stretch and weaken during pregnancy - particularly the abdominals and pelvic floor muscles. These muscles provide support for the back and pelvis. Pilates is also fabulous for general strength and muscle tone. And you sure need your muscles when you are lugging around your gorgeous kids!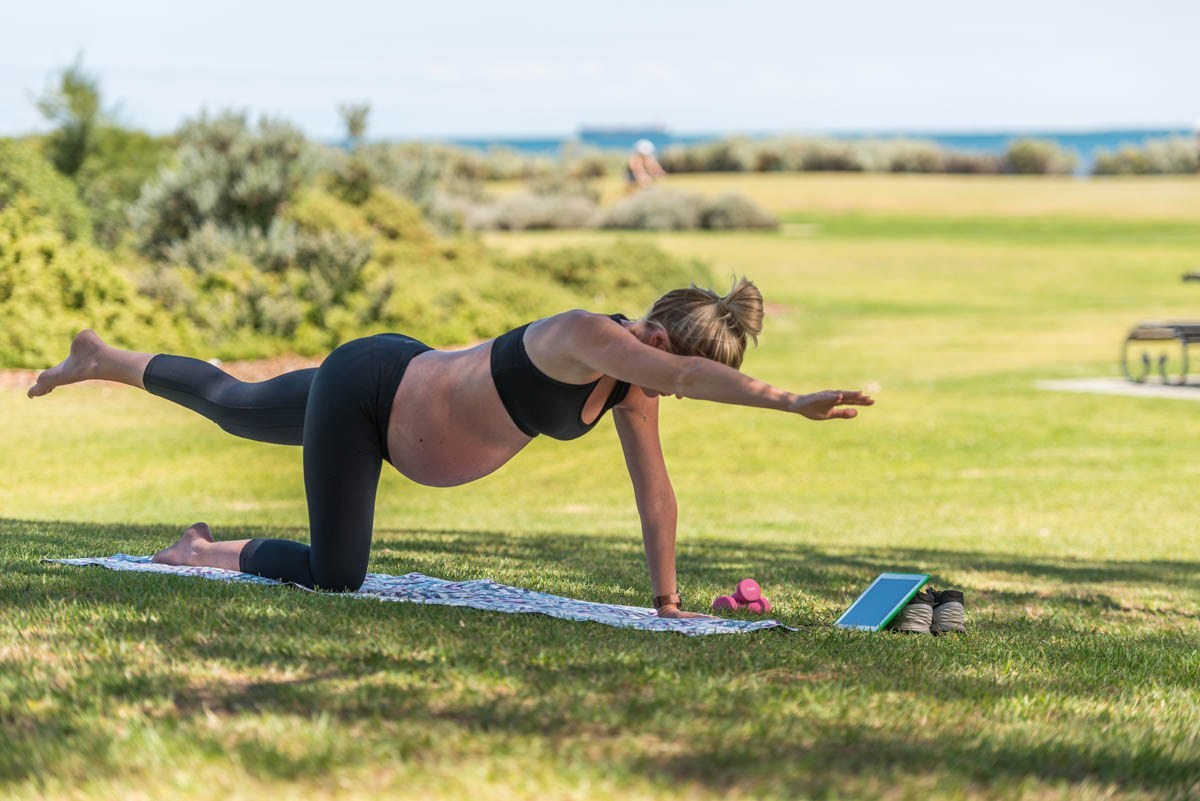 Pregnancy is a great time to develop healthy habits, which you'll pass on to your family. There are some exciting clinical studies looking at how participating in exercise for a year before conception can result in even more benefits to you and bub! How amazing is that!

And we know that habits adopted during pregnancy play a major role in shaping your health for the rest of your life. So let's get cracking! Find something you love and make sure you move your body daily. Your baby will thank you for it.
Chloe xx
________________________________________________________________________________________
You can find us at www.fittodeliver.com.au and www.thefitmother.com