Newborn Sleep Strategies
Strategy 1: Develop self-soothing techniques.
One of the most fundamental elements for teaching babies over time to be able to go to sleep and stay asleep is helping them develop self-soothing techniques, supporting them and always give them the opportunity to sleep every 45 mins – 1 hour.
Whatever it is, we all have ways that we soothe ourselves into sleep. If your bub depends too much on a "prop" to fall asleep – such as breastfeeding, bottles, dummy, patting, rocking, or even sucking on parents' fingers – then they will find it difficult to get back to sleep without their "prop." It is important that we support our babies to be able to master independent sleep skills, coming in and out of sleep cycle and possibly waking, but if they are not due a feed they can head back off to sleep and begin to sleep more peacefully. At this stage, one of the most common sleep props is breastfeeding, so have in the back of your mind that you will try not to feed (breast or bottle) to sleep. Of course, this is near on impossible to achieve 100% of the time, so allowing your bub to sleep on you, in a pram or car sometimes will be perfectly fine.
Strategy 2: Encourage full feeds during the day.
Create an EAT< PLAY>SLEEP pattern. Newborn babies (up to three months old) will need to take four to five naps per day, and these naps should ideally be between one to three hours. Most newborns should only be awake for 45 – 60 mins, increasing up to 1 hour and 15 minutes after 6 – 8 weeks of age.
Feedings: Somewhere between 20 and 30 minutes provides sufficient feeding time for newborns (the same is true for both breastfed and bottle-fed babies). For most babies, feeding times will be every two to three hours. Anything less than 2 hours you could become a human dummy.
---
Twelve hours of "Day, " Twelve hours of "Night"
An ideal schedule looks something like this:
8.00am - Wake up: Feed upon walking in a bright room (not the bedroom)
9.00am - First nap, roughly 1 1/2 - 2 hours. Feed upon waking
12.00pm - Second nap, hopefully another 1 1/2- 2 hours. Feed upon waking.
3.00pm - Third nap. Feed upon waking
6.00pm - Fourth nap. Feed upon waking
8.00-8.30pm Bedtime - Feed before bed
The important thing is to keep an eye on the time and make sure that your baby is not awake for longer than 60 minutes at a time.
For example start your day at 8am and bedtime for the night time sleep would be 8pm.
Strategy 3: Establishing a good bedtime routine.
Establishing a good bedtime routine from day one is a great way to help your baby establish days and nights and start to consolidate night time sleep more quickly. I suggest starting a bedtime routine off with a bath – it's a great step one. It's such a significantly different experience that your child will soon learn that a bath means bedtime is near.
1. Bath
2. Massage
3. Pyjamas
4. Feeding, but not to sleep or drowsy
5. Kisses goodnight and into cot or bassinet
Last feed: Your routine should always include a full feed to ensure baby's tummy is full, before the night sleep. It will likely be a tricky time of day to keep baby awake during the feed. Keep a close eye on them and try and keep baby aware of their surroundings by stimulating with touch or talking. Your number one goal here is to place your baby in the cot awake.
If baby starts to cry: If your baby fusses, you can pick them up and walk around the room a bit until they are calm. Once calm, you should return them to their cot. If they fuss again, wait a few minutes to see how they will respond. If the fussing turns to crying, you should pick them up again. Walk around the bedroom until they are calm, and then put them back into the cot.
Night Feedings
When your baby wakes up in the middle of the night, you should wait just a few minutes (up to 10 minutes) if your baby is not super upset before you respond. If they are hungry, you'll know! If they fuss for longer than a few minutes, you can feed them. However, before you start the feed, delay it by changing the nappy first. This is to delay the gratification of the night time feeds. Your baby will then be less likely to connect waking and crying with feeding.
You should keep baby in their room at night. Keep the lights low and your voice quiet so that baby doesn't become over-stimulated. Night time is for sleeping, so resist the urge to watch TV or turn on lights. This will also help you resettle faster when you get back to your own bed.

Do not feed any more regularly than 2 – 4 hourly at night.
If baby wakes before the three hour mark then wait for a few minutes, then go in and sit beside the cot and try to intermittently shh and pat. This will give baby the opportunity to go to sleep independently.
---
It's Morning!
It is often hard to tell when the night time ends with a newborn. This is when we look at night or day as being a 12 hour interval. If baby went to bed at 8.00pm, 8.00am will be the start of the day. The best way to signal that the morning has officially begun is to take baby out of the room in a bright daytime environment such as the living room or the kitchen.
---
NAPS
Naptime Routine
Creating a clear and predictable naptime routine will help your baby make the transition and take a nap more readily.
Good examples of nap routines:
- Nappy change
- Cuddle time/with songs
- Story book
- Avoid feeding right before naps as this will only encourage a feed/sleep association
Once the routine is complete, put your baby in the cot or bassinet awake. If they fuss or squirm, wait a minute or two to see if they can settle themselves. If they get more upset, you can pick them up again and soothe. At the first signs of drowsiness put baby back down again. Repeat this process until your baby has fallen asleep or one hour has gone by. If your baby has not fallen asleep within this hour, then get baby up and offer a feed. Do your best to keep baby awake through the feed, and then put them in the pram, swing, carrier, or go for a car ride so they can get some sleep.
Rules for newborns are flexible and sometimes you just need to do the best you can.

Short naps:
If your baby wakes before an hour is up, try for 10 minutes to coax baby back to sleep. You can pat, shhh, jiggle the mattress, doing whatever you can to encourage baby to go back to sleep. It is better to try to preserve the nap so that the feed schedule stays on track, rather than worry about following all the rules for independent sleep habits. If you have tried for 20 min with no success, then get your baby up, wait 10 to 20 min before offering a feed, and try again at next nap time.
---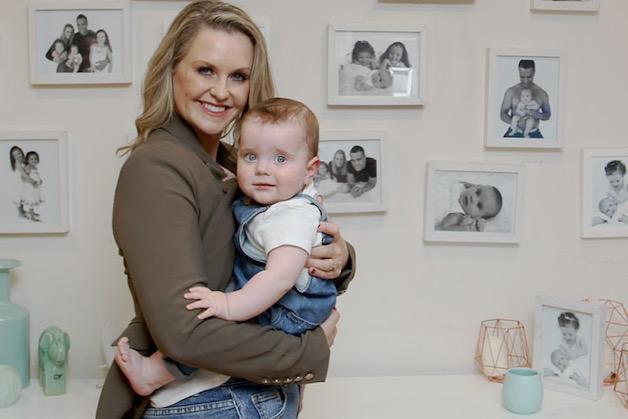 Helpful Hints:
Swaddling is most effective during your baby's first 12 weeks of life. By three months of age, your baby should no longer be swaddled or it might become a sleep prop and safety wise when baby starts to roll.

Dummies: Dummies can be a very useful tool for a newborn. They can calm a baby who feels the need to suck, they can buy you a bit of time if you just need to get a few things done, and they can also help your baby calm down and fall asleep. There is no problem with using a dummy now and then, as long as you keep in mind that you do not want to let it become a sleep prop. A really good place to try a dummy is to extend a short nap.
Bottles: If your baby is breastfed, you could try starting to offer a bottle of expressed milk or formula to your newborn at the age of six weeks. It can be easier to do so at this age than waiting until they are older.
---
For more information or details on a sleep consultation, head to www.bub2sleep.com.au