When did you start Jack N' Jill Kids and what motivated you to start it in the first place?
I think it all started when we had our first son, Dali and we changed our eating and shopping habits because of him. We started going to Farmers markets, we started buying unprocessed food, we became aware of chemical and other additives in our daily lives and diet.
Once he had his first tooth we went off the local health food store in NY and bought him a natural toothpaste. We immediately hit two problems – he didn't like the taste and the safety profile of the product was not great. We probably took a particular interest in toothpaste because of an obscure family-owned brand that had been out of production for many years. Jack N' Jill was a brand owned by Justin's father for longer than he could remember – in actual fact the brand was started by an Australian company in 1949.
(Justin's father had purchased the brand in the 80's)
I had an epiphany one day soon after while standing in front of the oral care section of Wholefoods in Union Square, NY. With Justin's background as a pharmacist, we were pretty sure we could craft a superior formulation and make what we thought would be the safest and yummiest toothpaste available. So we set about creating a new identity, philosophy and formulation for an old brand named Jack N' Jill!
Jack N' Jill became a reality through pure hard work and determination. We had inherited 1960's machines to make toothpaste from the original Jack N' Jill and after countless problems with the machines, a fire in the factory that set us back six months and misspelt artwork on the tubes – we finally launched Jack N' Jill in its current form in June 2011 at a Natural Organic Trade Expo in Sydney.
To get the business to the point of launching took all the information from various career paths that we had previously engaged within our lives to come together and make Jack N' Jill a reality.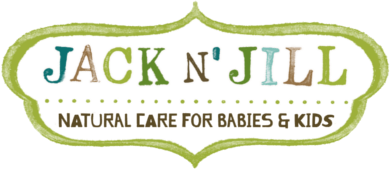 How many children do you have and how have you found managing motherhood and business?
We have two children. At the time we launched Jack N' Jill they were 1 & 3yrs old. Managing business and motherhood at that time was the greatest challenge I had ever faced - and I had faced many since moving out of home at 16yrs old to pursue a career in dance!
Being in a supportive relationship was the only way we managed that time. Working from the front room of our house for the first three years allowed us to juggle the business, at any time of day with the kids/babies schedules and demands.
What are some of the challenges?
There are many challenges running your own business - sometimes just the relentless expectation is draining.
In the early days producing products fast enough with an ever-growing demand was our greatest challenge.
Now some of the biggest challenges were dealing with local and overseas manufacturers – and how slowly everything happens! Products sometimes arriving just not quite right and how to deal with the curveballs. We overcame all of our issues with time and perseverance and support of each other.
If there was a word of wisdom to pass onto another Mum running a business, what would it be?
Be prepared to roll up your sleeves and spend several years living and breathing your business! From packing boxes, transporting stock, attending expo's, learning basic accounting, networking, travelling and staying up half the night to get it all done! Be prepared to stop watching television and truly looking after yourself to survive the early years! If you plan to do it with a partner – always prioritise your time together where the work topic is banned!! And if you are not in business together - make sure you have some really good support around you in case the business works!!..
Would you recommend starting/running a business to a new Mum?
Yes - but it is not an easy, stay at home option. A business can not succeed 'on the side'.
It takes everything you have and more. But the rewards are immense if it succeeds.
What have been the highlights?
In the early days each email that came through, the new stockists, the new online customers and the building of our international distribution. From day one we said - yes - to everyone who wanted to sell Jack N' Jill. We did not want a boutique product -but a natural and safe alternative that is available to as many children as possible.
We now sell across 39 countries and growing - this has been a real highlight and the true success of the business. We are not reliant on a single market and this gives us freedom and power to keep focuses on our mission and values.
Also travelling to meet our many partners is a highlight for us - I love to travel and Jack N' Jill provides us with many wonderful opportunities! This year we travelled to Russia, Poland, Slovakia and Greece to meet Jack N' Jill partners!!
What is the vision/dream for your business in the future?
Jack N' Jill is planning to continue to expand our Oral care offering and become the leading brand for Babies/Children's Natural personal care products from Australia.
Our values for sustainability in our products and packaging constantly challenge us - but are rewarding as we continue to pioneer new options and designs.